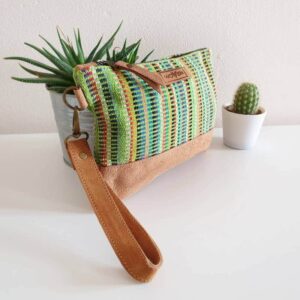 OMYOKI ethical bags are handmade in Nepal. These are bags combining fair trade, local raw materials and eco-responsible, and the work of women in difficulty. They are made of eco-friendly and traditional Nepalese fabrics and suede or nubuck leather.
Suede is a soft and warm material that adds a touch of chic and elegance to bags and pouches. The one used here comes from India. Countries where Muslims (in Hindus the cow is sacred and leather is not used) work leather, leather and suede.
We discovered the NGO WSDO (Women's Skills Development Organization) a few years ago and were touched by this association created by a woman, for women. In Nepal women very rarely have access to employment and when they flee a difficult marriage, lose their husband or are repudiated, they easily fall into misery, as do their children. WSDO offers a properly paid job at around five hundred women.
A branch of the association has recently emerged and makes trendy models by adding suede and leather parts. All products are handmade with quality materials, whether traditional fabrics, suede or zippers and buckles. In addition, the seams, linings and suspenders are very well finished.